Trenčín is situated in western part of Slovakia near boarders with Czech republic. It can be easily reached from Bratislava - the capital city.
FLYING TO A NEARBY AIRPORT
Trenčín can be reached from different airports by bus or train.
Local connections of trains and buses in Slovakia can be searched at www.cp.sk
From Bratislava Airport

Outside the arrival hall at the Bratislava airport there is a bus stop. Get on the bus number 61 terminating at the railway station – Hlavna stanica. Bus tickets are available from the ticket machine, you will need an one-hour bus ticket because the bus journey from the airport to the railway station takes around 25 – 30 minutes.
You will get to the HLAVNA STANICA (The Railway Station)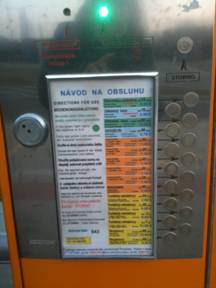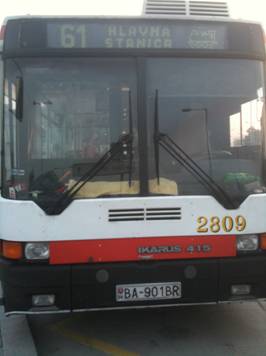 The buses running for the Bratislava Municipal Transportation System have four doors and you can take any of them to get on the bus. Insert your ticket into a slot of a device to validate it and do not get off the bus until the terminal stop comes.
Local connections of trains and buses in Slovakia can be searched at www.cp.sk
From Bratislava Railway Station to Trenčín
Take the Žilina or Košice express to get to Trenčín. Tickets cost €5.90 for a single. Trains are more comfortable and run more often than buses. Before you start your trip you are advised to learn departure times for trains on the website www.cp.sk.
The Slovak word "Odkiaľ" means where from and "Kam" stands for the English word "to"

Odkiaľ: Bratislava hl. st.
Kam: Trenčín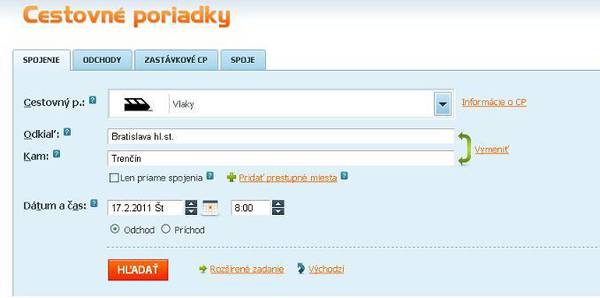 Then clickon HĽADAŤ that means SEARCH.
You can see when your train is leaving from Bratisalva and arriving to Trenčín.
If we click in the number of the train, we can read the names of the stations the train calls at and also the arrival time is given.



Arriving at the Trenčín railway station you have two options: to take a taxi or a bus. Arriving for the first time you would rather take a taxi; write the address you are heading to on a piece of paper and then simply show the address to the taxi driver.
From Vienna Airport
If you land in Vienna, the best way to get to Trenčín is via Bratislava. The options include
direct bus lines operated by Slovaklines. The bus will arrive to Bratislava NIVY (Bus station). You can buy the ticket in advance online (www.slovaklines.sk) or you can buy it in the office which is just near the entrance of the airport. You cannot buy the ticket in the bus.
Once you are in Bratislava NIVY, you can either:
take a direct bus to Trenčín (search on www.cp.sk)
take a city bus to HLAVNA STANICA and take a train (again www.cp.sk)
ONCE ARRIVING TO TRENČÍN
Trenčín has one small station which is both for buses and trains coming from different directions.

To get to your dormitory you can:
take a taxi (taxis are waiting in front of the station)
take a city bus (check Bus Trencin)
go by foot (check before where your dormitory is situated as some of them are close to the station and you can walk)